Vaginal dryness is one of the hallmark symptoms of menopause. While it is expected, it certainly is uncomfortable and can make intercourse challenging. Indeed, many women also experience a decrease in libido with menopause which can make intercourse more unappealing if things are dry. Babe, if you are suffering from menopause vaginal dryness, this article will break down the best lubricants for you.
First Things First: Where Does Vaginal Dryness Come From?
Your vagina provides its own natural lubricant that is made with the help of estrogen. Prior to menopause, estrogen stimulates the vaginal walls to constantly be coated in a thin, clear fluid. Estrogen also maintains the health, elasticity, and thickness of your vaginal walls. When estrogen levels fall after menopause, your vaginal tissues can atrophy (or thin) and you lose your own natural lubricant.
Vaginal dryness can also be caused by a number of other things including childbirth and breastfeeding, radiation and chemotherapy, anti-estrogen medications, antidepressants and surgical removal of the ovaries. Similarly, there are also certain medical conditions that can cause dryness including autoimmune disorders and allergies. If your vaginal dryness is causing itching, tearing, burning, or irritation, consider giving these lubricants a try.
Silicone Lubricant for Menopause Vaginal Dryness
Silicone-base lubes are hypoallergenic and tend to provide the smoothest, silkiest feel. Typically, silicone lubes also last longer than water-based or natural lubricants. They are also safe to use with condoms. If you are looking for something that is gentle and non-irritating, a silicone lubricant may just be the ticket. Furthermore, a silicone-based lube can be a great companion for intimacy in the shower or tub as it does not degrade easily in water. However, silicone lubes can leave a sticky residue that may remain on your body even after using soap and water.
Some options for silicone-based lubricants include: Wet Platinum Premium Body Glide, Astroglide Diamond Silicone Gel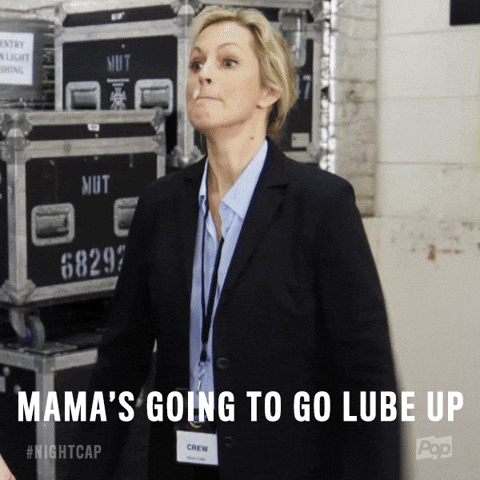 Water-Based Lubricant for Menopause Vaginal Dryness
Water-based lubes are known for their versatility as they can be used for pretty much any sexual activity. They are safe with condoms as well. If you are looking for something that won't stain your clothes or sheets and washes off easily, a water-based lubricant may be for you. However, you may have to apply more frequently as water-based lubes tend to evaporate more quickly. Similarly, if you are looking for something that can make intimacy more enjoyable in the shower or tub, water-based lubes are not the best option.
Some options for water-based lubricants include: Astroglide Liquid, K-Y Ultragel, and Replens Silky Smooth
The Best Vaginal Moisturizer
Replens Vaginal Moisturizer is one of the most popular vaginal moisturizers for menopausal women. This product is an estrogen-free vaginal moisturizer that has been found to be as effective as hormone-based treatments for vaginal dryness. The effects of Replens Vaginal Moisturizer are long-lasting as you only need to apply it every 3 days. It is applied to the vagina via an applicator and is safe to use with condoms. Replens also offers a personal lubricant with the same patented ingredients as the moisturizer.
Whether it is for sexual purposes or not, some women simply need an everyday moisturizer to make the vaginal area more comfortable in menopause. Many women would prefer to use a natural moisturizer such as olive oil and grapeseed oil. However, some oils can throw off the pH of the vagina and increase your risk of infection. If you are shopping for a natural vaginal moisturizer, be wary of added ingredients that may cause further irritation.
If you are looking for the best natural lubricant for menopause dryness, you may turn to coconut oil. Coconut oil has been touted for its many health benefits, especially for the skin. Curious about using coconut oil as lube? Click here for the latest information.
Would you like to learn more about perimenopause? Are you interested in connecting with other women in perimenopause? Join our Perry Community of awesome babes who are sharing the latest tips and tricks for surviving perimenopause.
Disclaimer: This is not medical advice, does not take the place of medical advice from your physician, and is not intended to treat or cure any disease. Patients should see a qualified medical provider for assessment and treatment.
Meet the Author
Perry Babe Julia ( RN, BSN, BA) is a registered nurse based in Colorado. Julia's nursing background in women's health has ranged from neonatal and postpartum care, to labor and delivery, to outpatient gynecological medicine for both adolescent and adult populations.
Much of her education and clinical experience is related to educating women on women's health topics ranging from lifestyle improvements, disease management, and general health education.
Find Julia's Perry community profile right here.